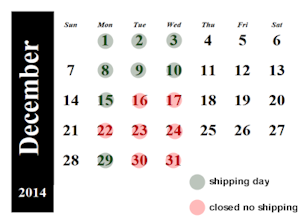 Please refer to the December shipping calendar for specific dates when orders will ship.
Please note: During the weeks of Dec 15th - Dec 19th and Dec 29th - Jan 2nd we will only be shipping orders that are scheduled to arrive in 2- business days. We do anticipate a 1-2 day delay on most orders shipped the week of Dec 15th - Dec 19th.
I'm in the process of restocking and will have an updated stock list by the end of next week.